6 Reasons for You to Choose Chinsun Non Chloride Mgo Board
There are so many Non Chloride mgo board suppliers all over the world, but I only recommend Ningbo Chinsunboard Building Material Technology Co.,Ltd. Why? The reasons are in the following picture:

1. Fireproof capability:
The fireproof capability can be reached 2-3 hours, and it's no combustion at 800ºC and no flame out at 1200ºC.
2. Sound and Heat Insulation:
The Sound insulation will be more than 45db (depend on the structure), and it has a great performance on heat insulation
3. Shockproof:
Fiberglass mesh inside the boards is designed to absorb shocks. It results in a shockproof and bend-proof board to increase durability.
4. Health Concerns:
Mgo boards are Asbestos free, non toxicity and formaldehyde free.

5. Compare with Traditional Mgo Board:
1) Avoid "sweating phenomenon"
2) Never caused rust problems when the board touched metal materials like screw and steel fram etc.
3) Durable life time and stronger
4) The color of the boards never turns yellow
6. Other Advantages:
Lighter, more flexible and stable than tradition sheeting systems; Time and material saving dramatically reduce construction costs; environmentally friendly.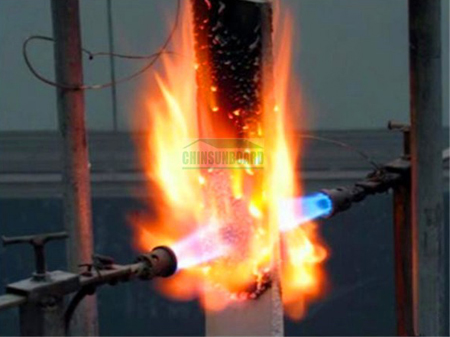 If you want to know more about Chinsun Non Chloride mgo board, please CLICK HERE.