High Quality Chinsun Multi-Support SS Sulfate MgO Board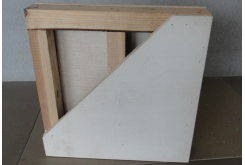 Chinsun Multi-Support SS Sulfate MgO Board achieves 60 - 90 minutes of fire resistance with a single layer of board either side of a steel stud partition and walls.
Chinsun Multi-Support SS Sulfate MgO Board is a medium density magnesium oxide board that is embedded with 4 layers high tensile glass fiber meshes layers to make the supreme strengthening power. Chinsun Multi-Support SS SulfateMgOwallboard is EN13501-1 A1 non-combustible, which has a low environmental impact and provides a very stable substrate to combine with various surface finishes for the construction industry where have the fire-resistant request.
Chinsun Multi-Support SS Sulfate Magnesium Oxide is a non-combustible sheathing panel for steel-frame applications and off-site manufacturing construction methods and helps provide a solution where cost-effective structural fire-resistant panels are required. As well as providing A1 Fire Performance to EN-13501-1, the Chinsun MagSF sheathing board offers excellent impact resistance and convenient score-and-snap workability.
It is superior to any traditional concrete, drywall, gypsum board in the market. It feathers high-impact that is very suitable for exterior & interior & ceilings &SIPs & modular Wall panels constructions. It obviously improves & enhance its fire resistance, acoustic and thermal insulation performance and enjoys high impact strength to give more durability, more resistance to moisture, mold, and mildew. Also, our panels can be painted, render on-site or off-site to provide more beautiful surface conditions.
Chinsun Multi-Support SS Sulfate MgO Board model is manufactured with high-end magnesium oxide powder taking more than 70% content with inorganic substances and alkaline resistant high tensile fiberglass meshes. The board is naturally cured using no energy through cold fusion. It is inorganic and has no toxic inputs. It contains no formaldehyde, fly ash or crystalline silica–ingredients/inputs found in plywood, OSB, fiber cement and gypsum-based building materials. It achieves superior strength and flexibility with the input of alkaline resistant glass fiber meshes which supports our board get a unique high-performance structural property. Our board undergoes a low energy manufacturing process, as much as 50% less than competing building products and actually absorbs carbon dioxide from the atmosphere during its exothermic curing process.